OK, technically, it's been more than a week; my plan was to work on updates over the weekends, and post them on Sunday or Monday—but here it is Wednesday, and I'm just getting started, which means by the time I post this, it'll be damn near time to make another update, according to my carefully-laid plans. In addition, since I'm behind schedule, I have even more to babble about than usual. So strap in, y'all. Be sure to take a potty break first. This sucker's gonna be a long one.
BUT! Before I get too far in, here are the nitty-gritty updates for anyone who nerds out on details, or just likes having stuff to Google:
I was mistaken about the chemo drug I mentioned in the last post; the day after I posted last, I received a letter from my insurance company that the following drugs had been approved for my treatment, at my physician's request:

Keytruda (immunotherapy drug; all the rest are chemo drugs)
Carboplatin
Taxol
Cytoxan
Doxorubicin

I was also kind of confused about the frequency of treatments. Initially, I was told (by Dr. Get-It-Done, at my initial post-diagnosis consult) that I'd get treatments every three weeks; then, I was told by Dr. Cool-and-Calm that my treatments would be weekly. Finally, at my "chemo education" meeting with Nurse Practitioner Patience-and-Grace (see box below), I learned that neither of those statements was a lie: for the first 12 weeks of treatment, I'll go weekly—and for the second 12 weeks, I'll go every three weeks, and receive a different series of meds. So here's the (even nittier, grittier) breakdown:

First-round meds: Keytruda / Carboplatin / Taxol
Second-round meds: Keytruda / Cytoxan / Doxorubicin
And here are the treatment-tastic events (now with jump links!) that have occurred since my last post:
This Week's New Characters: 

Nurse Practitioner Patience-and-Grace: The NP responsible for sitting with me and my husband to give us the down-and-dirty details about my treatment plan, what to expect, etc. 

Princess Erudite: The genetic counselor. 

Dr. Eagle-Eye: The radiologist on my care team. 

Nurse Poke-n-Prod: The kind and friendly, but ham-handed anesthesiology nurse who unfortunately had to insert my IV for port placement surgery. 

Love Tank: My husband. And OK, he's not new (had him for two decades), but the nickname is.

---
The Genetics consult
Subtitle: Blood vs. spit: the great internal skeeviness debate
Two Mondays ago, I had a phone consult with a very kind genetics counselor. I'm not sure how heavily she'll feature in future posts, so I'm not sure if she needs a name or not, but she was able to explain quite a bit about the kinds of factors she considers during a genetic consult, to determine a patient's likelihood of inheriting a specific health-related gene, so I'll call her Princess Erudite. At any rate, there are only a couple of key takeaways from that conversation:
Yes, based on the aforementioned factors, I should be tested to determine if I've inherited the BRCA gene.
Yes, I am ridiculous, because once she told me about the testing options, I realized that both of them were going to be problematic for me: the first option is a blood draw, and needles (particularly when they're sucking something out of me as opposed to putting something in) make me cry; the second is spitting into a tube, and saliva makes me puke.
True story: a few years ago, my mom decided to learn more about her heritage with one of those Ancestry kits. I happened to be in her apartment when she was filling the tube with saliva, but she was in a different room, so I was just FIIIIIINE. Until she suddenly and unexpectedly appeared before me, wielding her little tube-o-drool and asking, "Do you think this is enough?"

I puked.

And before you ask, YES, I have taken, and taken my elder son to get, a series of drive-thru COVID tests, and I made it through those incidents without puking, but GAH, it was hard. (And when I had to take my son, I legit stepped OUT of the car and walked around until he'd filled his tube and returned it to the attendant. The struggle is real.)
I was already leaning toward a blood test, because throughout this whole process, I've been tolerably poked and prodded enough to think maybe my "needle skeeves" were coming to an end (they are NOT, it turns out—but more on that later); however, when Princess Erudite asked if I had any blood draws coming up (suggesting that they could just slurp out an extra vial for genetic testing while they're at it), I became determined to orchestrate a two-for-one blood draw. (Meanwhile, my husband was listening to my conversation, shaking his head, and asking, "Why don't you just do the spit?" But y'all know I own my weirdness.)
The Echocardiogram
Subtitle: Taking the little wins where I can
The echocardiogram procedure was largely uneventful; it went smoothly, and I had the nicest conversation with the tech, who happens to live where I live, and who ALSO has a child starting high school this year. (She's a little concerned about her kid socially, as 8th grade was apparently really hard—but we had a great chat about how middle school sucks for 92% of us, and high school is where you really hit your stride: find your people, find your fun, make your moves . . . And yes, I did wonder how she was managing to do her job and have such an in-depth conversation with me at the same time, but overall, I trusted her, and actually had kind of a great time talking to her.)

The most important bit of news about the echocardiogram is that it showed I have good heart function—which, if you know my family history, is nothing short of a small miracle. I've told easily 70% of the medical professionals to whom I've spoken during this whole show so far that for most of my adult life, I've been worried about my HEART, not my breasts! I've always thought that if I should develop a serious health issue, my heart would be the problem. So my fear was that the echocardiogram results would show an issue that would (a) be . . . well, an ISSUE, aside from all that's already going on, and (b) prevent me from getting the most effective treatment to kick little c out of my boob.
BUT THAT DID NOT HAPPEN.
And just like when I learned that my cancer was at Stage 2 (rather than at Stage 4 like I feared), this news made me want to kiss all the people.
Procedurepalooza: MRI and port placement surgery
Subtitle: A naptastic day
Thursday was a doozy. As you may recall, my initial MRI was denied by my insurance carrier, and Nurse Navigator Peppy scrambled to get me in for one at an insurance-approved independent facility. Well, the new-location MRI just happened to get scheduled for the morning of the same day when I'd be having port placement surgery in the afternoon. (Honestly, I can't recall which was scheduled first, but as eager as I was to get this treatment party started, it's not like I was going to postpone either one.)
The key news that came out of the MRI procedure is that MRIs have not lost their allure for me. I LOVE THEM, yes, I do. They are pure sleepytime magic for me. You know those weird babies who can only be lulled to sleep if their parents put them in their car seats on top of running clothes dryers filled with sneakers and footballs? I would, apparently, have been one of those babies (except for the fact that there WERE no car seats when I was a baby), because I can snooze through an MRI like a Disney princess under a curse. I had doubts about this one, however, because when I told Dr. Get-it-Done at our initial consult how much I love MRIs, she warned me that a breast MRI required weird positioning that may not provide me the sweet slumber I anticipated.

As it turns out, though, Mama got one helluva nap in that bad boy, even like this: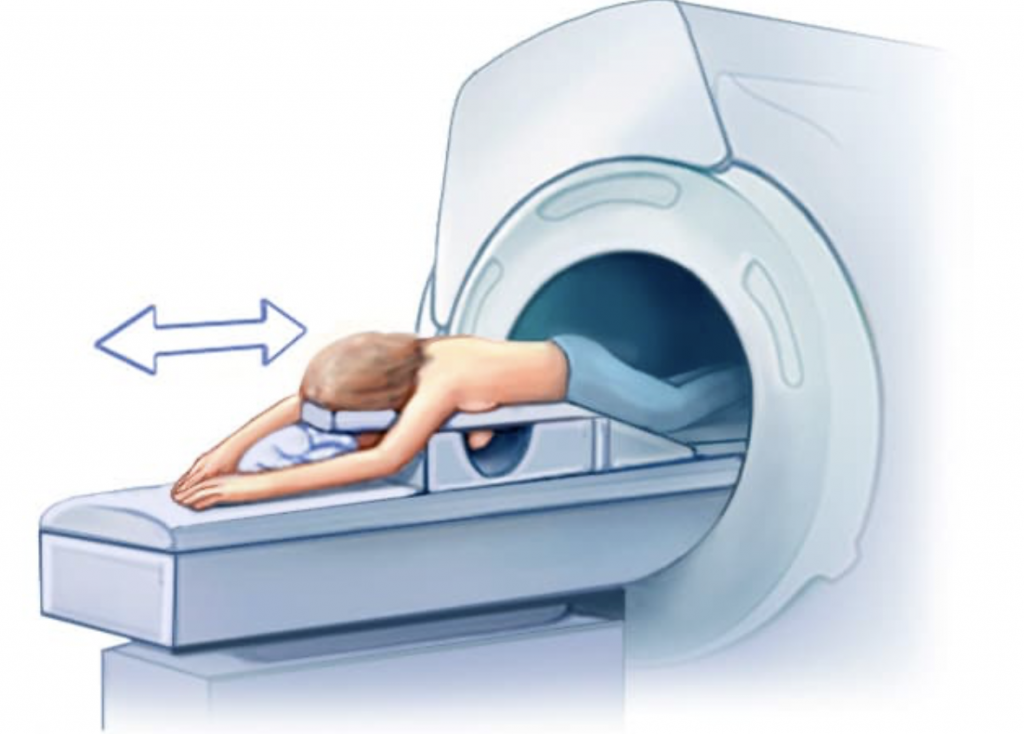 After my MRI nap, I headed straight to the hospital for the port placement. The procedure was scheduled for 3 p.m., but I was told to arrive at 1, in order to undergo all the prep. As it turned out, the prep time was condensed, because my port surgery got moved up on the docket (due to another surgery that had to be postponed). So pretty much as soon as I was taken back and gowned up, I was bombarded by people asking questions: the surgeon, the anesthesiologist, a couple of nurses, and a student. There was some confusion about what was happening, because people on the downstream end of the surgery-prep process had been told to come and do their thang—but then they'd arrive behind my little curtain and see that some of the upstream parts of the process still hadn't been done. So there were a lot of apologies to me about the confusion (and about the fact that Love Tank would no longer have time to come and be with me before the surgery), but honestly, I wasn't pissed; I was just glad to be able to get the whole thing over with a little sooner.

The only thing I was kinda maddabout—as I hinted at earlier—was that JUUUUUUST when I had begun to think I was getting over my abhorrence of needles (having had a number of blood draws since climbing aboard this train, and an IV insertion earlier that day for the MRI dye) . . . JUST when I'd started to think that dammit, when this was all over, I might just start donating blood . . . I underwent a horrid IV insertion by Nurse Poke-n-Prod who, upon learning about my issues with needles, promised, "If you let me do this, I will give you really good drugs." I told him he had a deal, again thinking I was getting over this needle thing, anyway, so really, "letting [him] do this" would be a small price to pay.
I was wrong.
He made two prolonged and PAIIIIIIIIINFUL attempts to insert the IV into my right arm, at one point even speaking directly to my vein ("Come ONNNN," he pleaded, "don't play me like this!"), then cursing ("Dammit!") and finally huffing, "It popped!" before withdrawing the needle, scrubbing my right arm rather roughly to wipe up the blood (at least I assume that's what he was doing—hell if I was going to look) and trying again (successfully, thank Jesus) in my left arm.
For THAT I could have used an apology.
But he did keep his end of the bargain! As I was wheeled down the hall toward the OR for the port placement, I remember Nurse Poke-n-Prod walking alongside me, saying, "You're going to feel the anesthesia start to kick in . . . "
And the very last thing I remember was staring up at the ceiling as it whizzed past, and responding, "Oh, yeah. Yeah, I DO feel that . . . "
Next thing I knew, I was waking up in a room full of snoozing patients, there was vague pain near my right clavicle, and someone was offering me ice chips.
Within about an hour, I was dressed and leaving the hospital with Love Tank. I'd actually planned to attend the Back to School night at my elder kid's high school that night after arriving home; I'd even asked the anesthesiologist—after she told me that I'd be "legally intoxicated" from the anesthesia for 24 hours following the procedure—if it would be possible, and she said it likely would. However, I woke up from the procedure in enough pain that I accepted the prescription pain pill I was offered before being released . . . and that was all she wrote. I arrived home, apparently said some things to my children that they didn't understand (all the while convinced I was presenting as logical, articulate and clever) and then shuffled straight up to my bed, where Love Tank brought me some Arby's chicken fingers (I did not get a Jamocha shake) and then headed off to the high school as a solo parent. (This probably worked in my high school freshman's favor, given the impression I'd likely have made on the parents of his future friends at that point.)
On Friday morning, I woke bright and early (having passed out at roughly 6 p.m. the night before, the chicken finger trash still next to me in bed), and was having coffee when my elder dude came downstairs.
"How are you feeling?" he asked.
"Better," I replied, referring primarily to the port location pain.
"You sound a lot better," he responded—and then, in response to my quizzical look, proceeded to entertain me with a one-man imitation of my homecoming the night before. Apparently, in addition to saying a bunch of things that were not actually words, I was also walking like a drunken, geriatric hunchback with a bad knee.
I spent most of Friday hanging out at home, riding out my 24 hours of legal intoxication, and then went to get my hair blown out in the late afternoon (I mean, as long as I've got it, right?). Overall, not a bad way to spend a Friday.
BONUS CONTENT: A surprise weekend trip to the coast!

Although this may sound like some spontaneous, romantic venture, it was not. Well. It WAS spontaneous, but otherwise very stressful and sad. 

On Friday evening, just before dinner, I got a call from a long-distance friend who'd found herself in crisis. And while I am 94.2% sure I'd have done the same thing if my own life were going along "normally" right now, the fact that it's NOT made me take that whole "Do it now, while I can" philosophy to a whole new level. So I booked a hotel a few miles from her house, and booked a red-eye flight for Saturday morning to get there. 

It should be noted at this point that I did ask my friend, when she called, if she wanted me to come out there, and she said NO, that's she'd be OK (for now). So for a hot minute, I cooled my jets and decided not to go. But Love Tank pointed out (correctly) that I might regret it if I didn't do all I could to be there for her, and suggested that I book a hotel, fly out there, and then just text her and say, "I'm here if you need me, but if not, that's fine, too." 

So that was my plan—but then, as my plane was taxiing to the gate in her state, I turned on my phone to let Love Tank know I'd landed safely . . . and my friend called me. 

"I figure it's OK to call you early," she began, "since I know you have kids, so you're probably up early." 

"Ummmm," I replied, preparing for her to tell me to go straight to hell, "I'm up early because I just landed at your airport." 

My plan had been to Uber to my hotel, drop my bags, and maybe get a pedicure or something until check-in time, and THEN text her once I'd gotten settled in my room. Instead, I ended up Ubering from the airport straight to her house, where I got to spend most of the day with her. 

Ultimately, my visit did end up being a little intrusive for her, because she needed time alone to process and be a mess and take care of some stuff on her own—which I totally understood (nobody EVER has to explain to me the need to be alone). And it was really hard for her to look at me with fresh port surgery bandages on my neck without getting even more upset, which I also understood. So aside from that one day, I didn't see her, but honestly, I went there fully prepared to not see her at ALL, so getting to see her face and hug her (after literal YEARS) did my soul some good . . . 

 . . . as did my last evening in the hotel, which was an embarrassment of gifts from the universe: DINNER, which I walked to pick up nearby; and the hotel BED, which was where I ate the dinner ALONE, which meant there was nobody there to prevent me from watching the movie TWISTER on the hotel television. 

Turned out I needed that more than I knew. (I think Dusty may very well be my favorite fictional character in the world.)

I can only hope my surprise visit did my friend's soul more good than harm. 

I arrived home on Monday evening, in time to get a decent night's sleep before the beginning of treatment on Tuesday morning.
First chemo treatment
Subtitle: More naptasm and a pee-pee-palooza
On Tuesday, I arrived for my first treatment like I was moving into the place. Love Tank bought me the best bag EVER (I'd hinted about it for Christmas, but he surprised me with it a few days ago):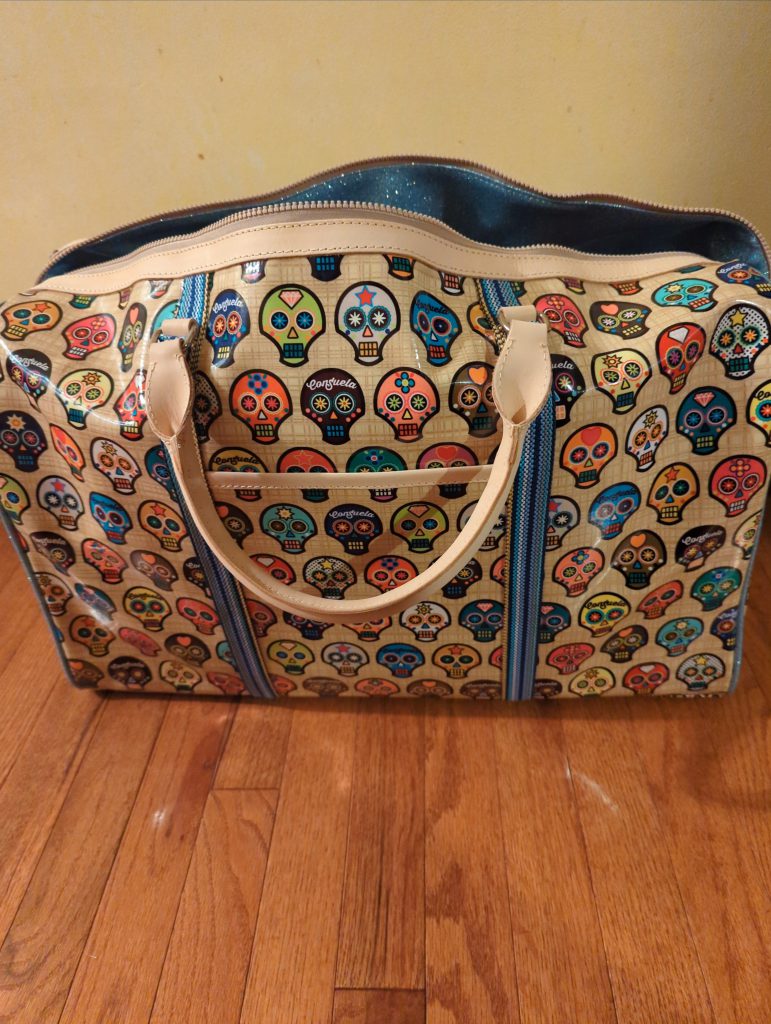 . . . and I stuffed it with all the goodies I thought might possibly come in handy for a 4.5-hour stint in a recliner:
two blankets
an iPad, which included a stack of Kindle books
a notebook and pen
a 32-oz bottle filled with water
a PB&J (I'd planned to pick up fancier snacks over the weekend, but instead I skipped town)
extra socks
a sweater
my purse (hey, it's a big bag), which included my phone
chargers for all the things
. . . and most importantly, my laptop, because I had this grand idea that I was going to work on my next blog post during the treatment.
THAAAAAAT didn't happen. First of all, I slept through most of it, because of the Benadryl they gave me as part of the cocktail of pre-meds before the chemo. Second of all, even through my sweet, sweet Benadryl snooze, I had to visit the loo approximately 7,412 times, due to the combination of that 32 oz. of water I drank and the bags of saline getting pumped through me between medications—and I was required to call a nurse for assistance getting out of the recliner each time, because of the effects of the Benadryl (by the end of the treatment, I felt like I should leave a tip).
So next time, although I'll probably still bring the bag (because come on—it's AWESOME), I'm going to just go ahead and plan for the nap and the peeing.
The big news from that visit was that while I was still getting the pre-meds (and before I got the Benadryl, so unfortunately, I know it wasn't a dream), I got a visit from Nurse Navigator Peppy, to tell me that although the imaging center that had performed my MRI had reported no concerning "spots" anywhere outside the breast tumor we already know and hate, the radiologist on my care team (Dr. Eagle-eye) spotted a suspicious lymph node during the team's review of the images at my "breast conference" (which I'm sure sounds more fun than it is, but I wasn't invited, so what do I know?). So I would need to return to the hospital on Thursday (before I got too far into the chemo treatment) for an ultrasound of my left armpit, possibly followed by a biopsy of that lymph node, depending on what the ultrasound showed. None of this, she said, would affect my chemo treatment, but the outcome of these tests could affect what Dr. Get-It-Done would do for the post-chemo surgery, because she might choose to remove that lymph node, if it proved to be problematic.
She told me I had a 10 a.m. ultrasound appointment set for Thursday, and that if, based on the ultrasound, a biopsy was deemed necessary, it would be performed immediately following the ultrasound.
Biopsy #2
Subtitle: Well, shit.
So I'll cut to the chase (especially since I've basically already let loose the spoiler): contrary to my fervent hopes, I ended up having a lymph node biopsy on Thursday. But I kind of had some hints that I would, even during the ultrasound beforehand, because that procedure was being observed by a student, so the ultrasound tech was doing more talking than they typically do, for the purposes of instruction. As the tech began sliding the warm-gelled wand over my armpit, she'd say, "Here's a normal lymph node . . . another normal one . . . " and then she reached a point where she stopped saying that. At that point, she expressed some confusion about whether the node in question was a single node, or two snuggled up together, but she spent a LOT of time in that area, and basically let it slip that this was the rogue node. At that point, my hope that I wouldn't need a biopsy was already fading—but it disappeared altogether when she said, "Doctor's going to want—" before remembering that there was a patient attached to that armpit, and techs aren't supposed to share any type of diagnostic info with patients, and correcting herself: "He MAY want to biopsy this one."

But of course I knew. There was no "may." I was gettin' some tissue sucked out.

So I braced for another biopsy, and focused on the positive: it was a single lymph node; the radiologist on my care team is evidently fantastic, since he caught it on the MRI when the imaging place didn't; and above all, warm blankets. (Honestly, the highlight of all these medical procedures is the availability and generous offering of warm blankets. My advice? Never turn down a warm blanket.)
The biopsy itself was quick, but this time it kinda hurt! Dr. Eagle-Eye numbed the area with local anesthesia, of course (and based on previous experience, I expected that part to hurt), but when he started taking tissue samples (five in all), I discovered I could feel it happening (which was not the case during the previous biopsy on the breast). I spoke up after he took the third sample, and said, "Was I supposed to feel that? Because I did." The tech assisting him asked if it hurt, and I said no, but unlike last time, I felt . . . something. She said I WOULD feel pressure, but shouldn't be feeling sharp pain, which I wasn't. Even with the final two sample extractions becoming increasingly uncomfortable, I reasoned that (a) they didn't hurt nearly as much as another numbing injection would, and (b) I sure as hell didn't want to stop the show this close to the end . . . so I endured. Walked out a little sore (and shaky, just like before, BUT thanks to this team of practitioners, who told me that I was being injected with lidocaine and epinephrine to numb the area, I now suspect it's the epinephrine injection—not my charred and crackling nerves—that's making me shaky after these procedures), but nothing a little time and Tylenol couldn't fix.
I was told when I left that I could expect a call with results early next week . . . but in breaking news, I got the call earlier today: the biopsy "showed tumor in that lymph node."

Obviously not what I was hoping to hear, but right now, I'm clinging to the positives listed above, in addition to the fact that though this news does move the stage of my cancer from 2a to 2b (since there is now a lymph node involved), I'm still within Stage 2.
So that's where we are as of right now. If you're still reading, OMG, you're NUTS, but I love you for it. I had more I'd planned to talk about for this post, but I have blabbled enough, so I will save it for next time. Before I go, however, I will address a couple of things you may be wondering about:
How am I feeling? Pretty good, actually; it's Friday night, and the days between Tuesday's treatment and now have been somewhat of a rollercoaster—but like, a kiddie rollercoaster, so no huge rises or dips. I've been feeling slightly left-of-center, which I've managed to muddle through by trying to stay hydrated and moving. I've been joining Love Tank to walk our littler dude to school each morning, and that kinda wipes me, but getting up and doing little things (dishes, laundry, etc.) during the day (plus indulging in a short nap or two) helps keep the mild fatigue and vague nausea mostly at bay.
Um . . . why "Love Tank"? I suppose you could think of it in a couple of ways, regarding what my husband has been for me over the past month or so: a tank full of love and patience that hasn't yet run out through the gazillion medical appointments he's attended (serving as the dutiful note-taker each time, and missing a shit ton of work)—or, the way I see him: as a giant, armored vehicle-o-love, protecting me, a tiny, freaked-out kitten in the road, from all the potential danger coming at me. I can't express how much safety I feel throughout this whole thing, knowing he's rolling along beside me with his big gun out (not THAT one—clean your mind). My other advice, besides always accepting the warm blankets, is to get yourself a Love Tank for moments like this.

As always, y'all are rockstars for riding this train with me.