So in an effort to avoid what my journalist friends call 'burying the lede,' I'll come out with it:
I have breast cancer.
Invasive ductal carcinoma. Triple negative. Stage 2a.
This is literally about all I know right now, except for a few other things:
I will undergo chemo, surgery, and possibly (depending on what type of surgery I choose) radiation.
In a couple of days, I'll have an MRI to help determine if there are "spots" anywhere other than the lump I found, which will help determine the course of treatment.
At the moment, however, it appears the cancer is localized to my left breast.
Assuming the MRI confirms #3, I'll have the option (after the chemo) to go with a lumpectomy (removal of the lump and surrounding tissues), or a mastectomy (removal of the entire breast).
If I end up going the lumpectomy route, I will also have radiation (see item #1), and I may or may not choose reconstruction.
If I end up going the mastectomy route, I will likely choose reconstruction (via the DIEP flap method, which mines one's own fat (I mean, how awesome is that?) to reconstruct the breast, rather than using an implant).
However, if I go bald from the chemo, I will likely NOT choose to wear a wig. Asymmetry makes my eyeball twitch (so walking around with one boob is likely to cause me a world of grief), but baldness doesn't bother me—I grew up Black in the 70s, baby, and thanks to Isaac Hayes and The Ohio Players, the Pat Evans aesthetic runs deep in my soul: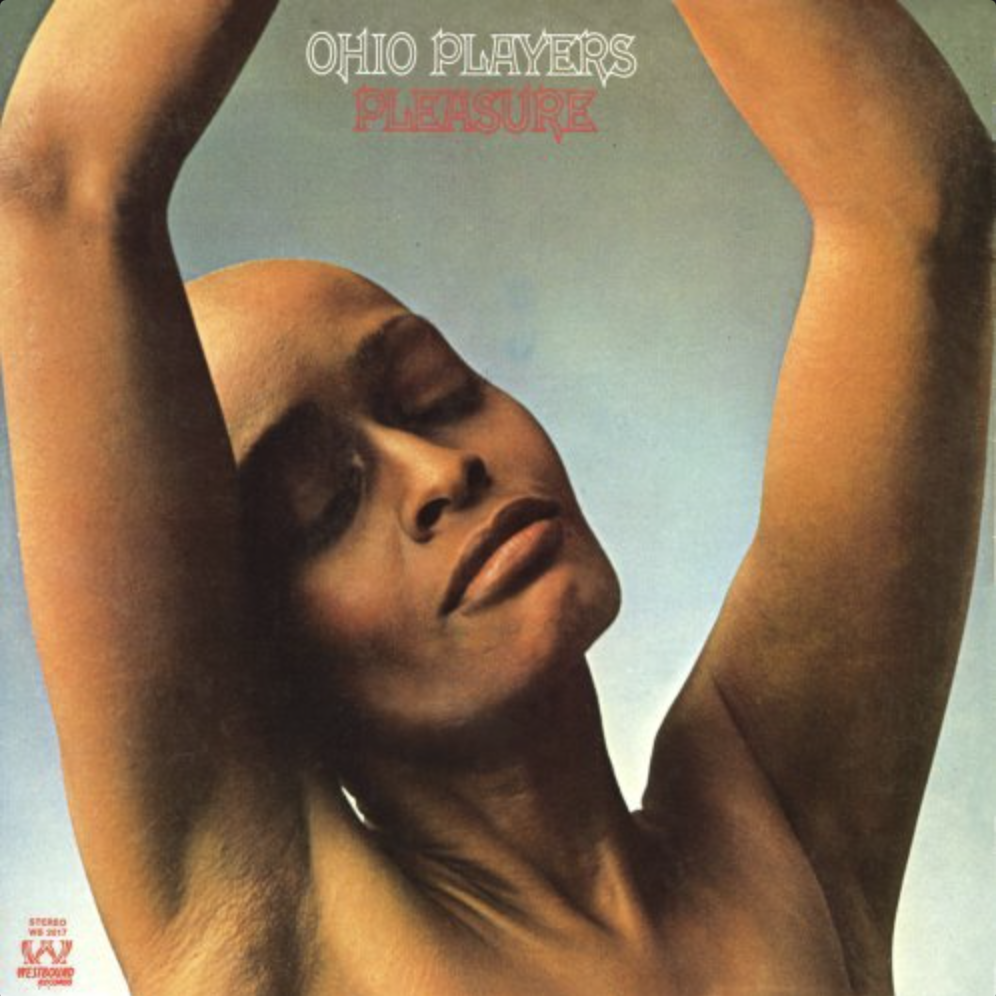 Mind you, I am not in any way under the delusion that I will look NEARLY this bad-ass with no hair; but knowing it's possible somehow alleviates most of the fears I have about hair loss (which is kind of huge for a Black woman—but that's a discussion for another day), leaving only a couple of small concerns about whether I'm going to discover a weird dent in my head, and what I'm going to do about the giant mole that's currently buried in my hair, about three inches above my right temple. But dammit, if there were ever a time to lean into giant earrings and hope for the best, it's now.
But I digress.
The point is that big changes are afoot for me, and I hope to use this space to tell you about them, in a kinda-CaringBridge, kinda-stream-of-consciousness rambling way. But tell you what: since we all know my rambling can get a little out of control, I'll make an effort to begin each blog post with the most recent medical news I have, so you won't have to pick through a 6,000-word babble-fest to find out what's going on with me health-wise (i.e., dig up the lede). Then you can decide for yourself if you want to stay for the rambling.
To that end, this is the point in THIS blog post where THAT part (which will also likely include some TMI) begins.
---
How It Started
At some point in early- to mid-June, I was standing in front of the bathroom mirror, putting on deodorant, when I paused in wonder: why the heck did I have a DENT in my left breast? I reached my right hand over to touch it, and felt a rather large, oblong lump beneath the surface.
I wasn't INCREDIBLY worried; in my early 30s, I'd undergone a series of imaging procedures on my breasts, because the new gynecologist I'd started seeing had some concerns about lumps she felt while palpating them during a routine exam. In the end, there turned out to be no cause for alarm (my boobs were just fibrous), so I skipped on my merry way. Cut to 20 years later, and I'm assuming this lump is just a matter of my girls being who they are, and perhaps partying a little harder in this, The Age of Perimenopause.

Plus, based on a few Google searches, this didn't seem to have the characteristics of a cancerous lump: it didn't "feel like a frozen pea" (it was much bigger and softer), it didn't seem to be immobile, and it did, occasionally, feel slightly tender (which, I'd read, malignant tumors generally don't). Still, in an effort to err on the side of caution, I booked a June 13 appointment with (again) a new gynecologist, mainly in order to get a referral for a mammogram and put this whole thing to bed.
(The gyno visit turned out to be a whole 'nother thing; based on questions I answered about my periods during intake, I ended up feet-up and cooch-out, deep breathing and clenching my toes while the doctor plucked out some of my uterine lining (OUUUUUUCH!) for a biopsy of that tissue. And y'all know me and my love for a good story (and good irony), so I was already crafting a tome in my head about how I went in because of a lump in my breast, but ended up discovering cancer in my uterus. (I make no apologies for being this much of a weirdo.) The endometrial biopsy showed no malignancy, however, so I put my (figurative) pen down, cooled my (also figurative) jets, and followed the gynecologist's referral to follow up on the breast lump.)
On June 27, I walked into the appointment the gynecologist had set up for me at a place called Midwest Breast Care, thinking I was there to have a mammogram. Instead, the visit was short and sweet; a nice nurse practitioner named Kelli felt me up for like three minutes, and then set me up with an appointment at Diagnostic Imaging Center for a mammogram and ultrasound. Because of the 4th of July holiday and a planned trip to Texas to visit some family people with my offspring, THAT appointment didn't take place until July 15—but things started moving pretty quickly at that point, because before the end of that day, I'd been given the first piece of concerning news: the lump they'd examined via mammogram and ultrasound had earned a rating of BI-RADS 5—which indicated a 95% chance of malignancy. I was going to have to have a biopsy.
That's when the "Oh, shit" began.
The biopsy took place at a different place—The Women's Imaging Center (where the doctor from Midwest Breast Care could perform the procedure herself)—on July 19; it, too, was relatively short and sweet. The worst parts were:
The injection of local anesthesia to numb the area
The play-by-play details the doctor was kindly sharing with me as she worked (I know some people are probably comforted by knowing EXACTLY what's happening when they can't feel or see what's going on, but me, I prefer ignorant bliss), and
The fact that my husband, who'd accompanied me on this appointment, wasn't allowed to come into the procedure room with me and hold my hand, so instead I clutched the edge of the mattress where I lay, took deep breaths, and tried to pretend the doctor was reading me a book, because I never pay attention when people read shit aloud to me.
I walked out of the biopsy a little shaky from nerves, but fine—and then began the wait for results, which I'd been told would take 2-3 days.
Two days later, on Thursday, July 21, as I wrapped up a Zoom meeting at work, the phone rang.

The woman on the other end introduced herself as a nurse with Midwest Breast Care, and after the initial pleasantries ("Fine, thanks, how are YOU?"), said she was calling to share my biopsy results with me. I said, "OK" . . .
. . . and then she paused. Paused for a full, deep breath. That pause told me everything I needed to know.

And, of course, a couple of seconds later, she confirmed the worst. Aside from telling me the mass was malignant, however, she was unable to share any more information. I would, she said, learn more when I met with Dr. Get-It-Done (who'd performed the biopsy) in nearly a week, on July 27.
How It Went After That
In the moments following the news, I felt mainly numbness and sudden exhaustion (I joke that whereas sudden stress triggers a "fight or flight" response in other people, it triggers a "fall asleep" response in me). I immediately called my husband at work, and he said he'd come home right away—which I tried feebly to discourage, because I didn't feel so much like I needed a good cry in someone else's chest, but rather a good nap. But he came home anyway, and after we talked for a little while, I went upstairs and crashed.

After I woke up, he drove me on a couple of errands (I was due to pick up groceries for, and deliver them to, my mom, and then pick up our younger kid from day camp, so we did both of those things, and then made a run to Costco), and as we drove around town, my inner Maudlin Maude came ALL the way out to play.
The whole world became more vivid: the grass so verdant it practically hummed, the sky suddenly Simpsons-intro perfect. Looking out the window from the passenger seat of the car, I suddenly felt, deep in my bones, the inherent magic in all the things: Trees! Why had I never taken the time to appreciate the miracle of trees? Their different shapes, textures, colors? And how had I ignored the simple fact that the clouds not only bathed us in rain, but actually engaged with us by occasionally arranging themselves into shapes we recognized—dinosaurs, penises, Winnie the Pooh—to keep us entertained? And OMG, Arby's! I was going to miss Arby's so much . . . how many more Jamocha shakes would I be able to experience in my life? I should have had more Jamocha shakes!
Every song we heard in the car during our three-hour tour spawned a This-Is-Your-Life-type mental vignette of some small moment from my past—and, it's worth noting, we keep our Sirius XM firmly planted on the 70s on 7, 80s on 8, and Yacht Rock stations, so there was no shortage of nostalgic mind movies.
Every person at whom I glanced at a stop light, in line at a cash register, or out the window of the car as they stopped to pick up their dog's poop became a fascinating and complex creature whose stories, stresses, and triumphs I suddenly wished I could know.
It got DRAMATIC, y'all.
For the six days between the initial diagnosis and the follow-up discussion with Dr. Get-It-Done at Midwest Breast Care, I wavered between sadness, numbness, exhaustion, and that first-day maudlin-yet-stoner-like fascination with the world and everything in it.
But the kicker was that I couldn't tell anyone. I mean, come on—y'all know I like to fling my business ALL UP INTO THE WIND. But this time, I had to slow the blow.
I mean, of course my husband knew, and he was amazing support. In fact, the day we found out, the speed and unequivocality with which he said YES to my every request made for a little silver lining:

"Hey, can we have pizza for din-"
"YES."
"Would you please put the little one to bed toni-"
"YES."
Shoulda gone big and asked him for an Airstream.
But I digress again. The point is that without ANY more information than "I have cancer," there was NO WAY I could share the news with the other people closest to me: my older kid (who was away at camp when we got the news, anyway), my mom, my sister. And I have this weird hang up about Order of Operations with big news like this (good OR bad): ya gotta tell your inner circle first; you can't let your sister find out on Facebook!
So I kept mum.
The day after we got the news, we shoved our littler dude in the car and drove up to Minnesota to fetch the bigger dude from camp. Our little dude is only 6, and although he's more perceptive than I'm ready for sometimes, we were able to process the news a little bit—speaking in quiet, parentally-coded sentences—during the 8 hours on the road.
Once we picked up the 14-year-old, however, we had to mum ourselves back up—which proved unfortunate when, sometime in the middle of our drive back home, I received an email with my official lab results from the biopsy. From that report, I learned that in addition to the BI-RADS 5 rating it had earned from the mammogram/ultrasound, my little overachiever of a lump had also been categorized as "high grade." So I silently Googled THAT as we tooled down the highway, and . . . it wasn't good. But I couldn't SAY anything about it with both kids in the car, so I texted my husband, who was in the driver's seat right in front of me (my 14-year-old is taller than I am, so I graciously offered him the roomier front seat for the ride home, and sat in back with the little dude, play-acting arguments between his two identical Thor figurines about which one of them was more handsome).

My husband read my text (and the report) during a bathroom stop, and then once we got back into the car, we had to turn off Dan Fogelberg (damn that deep-feelings-melody man) for fear he'd make us both start bawling—which would likely make the kids more than a little suspicious. But at that point, I really started to feel like I was in for some REALLY bad news once I was able to talk to the doctor.
Once we arrived back home, I had to deep breathe and fake chill my way through a regularly-scheduled weekly visit with my mom (which also included my children), and peppily vague my way through a couple of check-in texts from friends who wondered whatever became of that issue with my breast (back when I was SUUUUUUUUUUURE the lump was going to turn out to be just an angry, atrophied milk duct or something—and that the worst possible news I'd get would be that even though it was benign, I was going to have to have it removed anyway—I'd told a couple of friends about it, mostly to complain about the pitfalls of middle age).
All the while, faced with what I believed was my imminent doom, I began to see/feel signs that confirmed as much: a slight back ache from scrubbing down the shower became certainty that the cancer had spread to my spine. Each moment of forgetfulness or ding-dong decision-making (both of which, we all know, are regular occurrences for me) became irrefutable proof that it had spread to my brain. Gastrointestinal distress brought on by questionable Mexican food . . . ? Well. You get the picture.
But finally . . . FINALLY . . . the follow-up consultation came.
The appointment was at 1:30 in the afternoon, and for the whole morning, I was so freaked out, I felt vaguely nauseated and couldn't concentrate on ANYTHING. When I arrived for the appointment, and was undergoing the initial vitals check, the nurse who took my blood pressure didn't TELL me what it was, but instead said, "You need to STOP STRESSING."

Easy for YOU to say, lady! You're not the one about to find out your chances of having another Christmas with your kids!
At last, we were ushered into a conference room, where Dr. Get-It-Done sat with us, went over the pathology results in detail, and answered all of our questions.

And while it wasn't ALL good news (the triple-negative nature of the cancer means a slightly less desirable prognosis, and more limited treatment options), let me tell you what: when you're sitting there, prepared to hear that your cancer is at Stage 4 (and that shit, forget Christmas, you may not make it to Halloween)—and then you hear "Stage 2," which means the cancer hasn't spread—the urge to kiss EVERYONE within a three-mile radius takes over your entire soul.
How It's Going
So since then, things have been . . . dare I say GOOD? I know that sounds jacked up, but between learning that I'm at Stage 2, AND being able to share the news (and thus the emotional load) more widely, I feel like a great weight has been lifted from my psyche.
(Well. The one chunk of weight that still remains is telling a childhood friend whose husband is battling colon cancer. When she first shared that news with me, I signed on to be one of the people she could call in the middle of the night if she needed to vent, to be a friend who'd haul ass onto a plane at a moment's notice. In short, I signed on to do what I could to help her feel BETTER.
So since the first "Oh, shit" moment, I've struggled with how on earth to tell her this news—and when. I mean, if I told her before I knew anything for sure, and then it turned out I was fine, I'd get her all freaked out for nothing (when she already has enough to freak out about). On the other hand, if I WASN'T fine, and then suddenly sprung this on her, she might do the math and be like, "Wait—I just talked to you six days ago, and you didn't say ANYTHING about this!"
Ultimately, I took the gamble that it would all turn out to be nothing, and she'd never even need to know any of it had happened.
I lost that bet.
So there's a hurdle I have yet to jump (therefore I've excluded her and her husband from the Facebook post linking to this blog post until I make that leap)—but compared to the period of time when I couldn't tell ANYONE, I'm still psychologically lighter.)

Hard days ahead, yes—LAWD, yes—and of course things won't be the same, but my closest people now know (and are taking the news better than I expected), and at this point, in the lull between diagnosis and treatment, things feel . . . normal.
The surprising thing, so far (other than—for real—the Stage 2 status, because I was already writing my obituary in my head) has been the fact that I always assumed a diagnosis like this would, for me, bring great clarity and perspective, a take-no-prisoners, tolerate-no-bullshit certainty about how I wanted my life to be . . . and that didn't really happen, not like I thought. Mostly things still feel the same. I still take a little bit of bullshit (mostly from my kids), and I still care way too much about things like dusting and vacuuming and making sure my bathrooms get cleaned once a week. Is this who I really am? Not sure.
But the one thing I AM sure about is who—per the title of this blog post—gets to be the "Big C" and what punk-ass interloper gets relegated to "Little C."
I am OWNING this capitalization. Chandra. THAT's what begins with (capital) C.
Take THAT, cancer. Ya lowercase motherfucker.