So I'm sitting here in my sky-high bed, drinking a Starbucks Cinnamon Dolce latte left on my porch by an equally dolce friend (it is DELICIOUS; I didn't think I liked Starbucks, but I am seriously considering Door Dashing eight more gallons of this stuff), and even though it's only been a coupla days since my last update, I figure now is as good a time as any to give y'all the updates I have right now.
They're not great. Not THE WORST, but not great.
So yesterday morning, I had back-to-back post-op follow-up (my, that was dash-tastic) appointments at the oncology surgeon's office, and the plastic surgeon's office.
The good news is that the surgical sites look good—no infection, not much bruising, healing nicely, etc.
The bad news is that my hope of little to no cancer in the primary tumor was stomped to a pulp. Not only was the tumor the same size it had been before I started the Red Devil treatments (you may recall that towards the end of the Taxol treatments, an ultrasound indicated the tumor had shrunk by about 30% . . . but damn if that piece of shit hasn't stayed the same size since then) but also—and here's the real smack to the face with a cast iron skillet—the biopsy showed that more than 75% of it was cancerous .(I mean, I was prepared for them to find a little cancer still mucking around in there—but more than 75%? Holy shit.)
There was some other good news, too: The first bit, of course, being that my margins were clear (meaning no cancer cells were found at the outer edge of the tissue removed—i.e., they "got it all" during surgery and I won't have to go back for a second surgery to have more tissue removed, because GAH, that would suck ass). Also, I mentioned in the last post that 2 lymph nodes had shown malignancy during surgery, and that 10 had been removed altogether. So the other good news is that NONE of the other eight nodes removed showed any malignancy.
So technically, I'm now "cancer free"—and of course, I'll be doing all the things (radiation, continued immunotherapy, and—I'm sure, although I haven't met with my oncologist yet—more chemo) in order to try and stay that way, but this cancer means BUSINESS, y'all. It took the ubiquitous "B-E AGGRESSIVE" cheer a LITTLE too seriously in high school.
And although I KNOW I'm not an oncologist (or ANY kind of medical professional, despite the fact that I sometimes list myself as Dr. Blackwell just for kicks when we renew our membership to the local art museum), what this looks like to me is that MY cancer told THE RED DEVIL to go right on back to hell.
From where I'm sitting, it appears that the most powerful cancer treatment on the market right now DID NOT WORK for me, and those last 12 weeks of treatment were basically for nothing. OK, technically, I don't KNOW that (because for all I know, the Red Devil kept the tumor from GROWING), but I mean, WHAT IN THE ENTIRE FUCK?
Plus, there were other things in the pathology report that I had to Google to understand (things like tumor necrosis)—but the understanding I came away with was basically, "You in danger, Girl."
(Again: take all of this with the knowledge that nobody with an actual medical degree has said these things to me, but, I mean . . . in the absence (so far) of any official indication otherwise, what else is there to think?)
Entitlement is a bitch
So I spent most of yesterday bawling and eating Thin Mints.
I'd like to say that I woke up TODAY with a renewed determination to kick this sucker's ass . . . but that's not exactly true.
What I did wake up with was the realization (which is not exactly NEW—it's just coming from a new angle) that I'm not exactly accustomed to shit not working out the way I want it to. This past week, I've been watching "Shrinking" on Apple TV (I know some critics don't like it, but I love it so much I could kiss it, I mean my boyfriend Jason Segel AND Harrison Ford in the same show (which makes me wonder if Segel TOTALLY plotzed when he knew he'd be working with Han Solo, because he's pretty much the EXACT demographic of someone who would)? SPECTACULAR). And (no spoilers here) there's a character in it whose mantra is "Everything goes my way."
And, well . . . I'm pretty much that person, too. I mean, not EVERYTHING goes my way:
Do I own a vacation home on the California coast? NO.
Do I have the same metabolism I did 30 years ago? NO.
Am I Sheila E.? NO.
But overall, things DO tend to work out the way I want them to, and I've had this rather amazing life, wherein I've been able to do and experience things a lot of gals from Topeka, KS, have not, and have the amazing luck to know and be loved by so many of THEEEEEE most spectacular people (I mean, not Sheila E., but otherwise . . . ). Plus, despite a relative lack of ambition and/or direction, I have somehow landed in a life replete with ease, comfort, and privilege (I don't wonder how I'm going to pay my medical bills, keep my lights on, or feed my children—hell, I just registered my older kid for sleep-away camp in Minnesota this summer). And I can only attribute that to some kind of crazy, lifelong good fortune, which (perhaps UNfortunately) has nurtured a huge sense of entitlement in me.
So the fact that yesterday didn't bring "Hooray! Everything's working out great!" news threw me for a bit of a loop.
(That amazing attitude y'all keep praising me for throughout this mess? Yeah, that has pretty much come from the fact that I assumed things would work out better at this point than they have.)
So what now (personally, I mean, not medically)?
Well. I don't know. But when I first got diagnosed, there were three things I wanted out of this experience (aside, of course, from SURVIVAL):
A clearer sense of priority in my life
A determination to spend more time doing things that make me happy
Something to write about.
I feel like I've gotten pretty good at 2 and 3, but #1 still eludes me at times; like I still find myself telling my sweet-faced, beloved (and OK, sometimes annoying) children to go away when they pop into my office to ask me something while I'm trying to work (I wouldn't trade it for the world, but the huge disadvantage of 100% remote work are snow days and professional days). I still find myself foisting off friends who offer to come bring me coffee or just hang out with me because I don't feel like my house is clean enough (y'all know 'bout me and cleaning). Or I find myself reluctant to join Love Tank for an after-dinner movie date on the sofa, because if I do, I won't get my laundry folded.
So maybe this is an opportunity to lean more into #1 and start telling my job, my vacuum cleaner, and my laundry to go fuck themselves. (Well, OK, we all know that's not going to happen, because all three of them DO provide me a great deal of satisfaction in their own ways (plus my job provides me both subsidy for, and the means to pay, my medical bills, AND the fees for that summer camp) . . . but maybe they can be a little lower on the list than the people I love.)
In the meantime, I decided I could use a little irreverence, so last night I downloaded (for free, thanks to all the digital credits I've racked up on Amazon) a book I read years ago, by an amazing person I met once.
Here's the unnecessarily long and winding story to go with that:
Many, many years ago, I lived in Oakland, CA. During part of that time, I dated a dude I'd known (but never dated) in high school, who happened to live in San Jose. Eventually, he dumped me (like a WEEK before my BIRTHDAY, for the love—although I gotta say I kinda deserved it (the dumping, not the timing thereof), because I wasn't the best girlfriend . . . I mean, I didn't cheat on him, or boil his bunny or anything, but remember, I'm the entitlement queen, so it wasn't the most equitable relationship), but we remained friendly, and called or emailed one another periodically, just to say hello and for proof of life. We even had dinner, once, when he was in Oakland for work or somesuch.
And all was pretty OK.
One day, though, I called him to say hello, and he told me he couldn't really talk to me anymore, because he had a girlfriend who wasn't cool with it. Even emails were a no-go, he said, because she read his emails over his shoulder.
And I was DONE.
One thing to know about me is that I do NOT cotton to jealousy (of the romantic variety, I mean; I get plenty jealous of people who own vacation homes). And quite honestly, I'm flummoxed by people who (a) openly admit to operating according to a partner's jealousy, and (b) expect me to understand and be OK with that.
I mean, OF COURSE I get that one's partner is one's top priority (unless there's laundry to be folded). So sure, tell me you have to cancel drinks because your partner just scored surprise tickets to monster trucks. Bring me a t-shirt and I'll reimburse you. If your partner's mom broke a wrist and needs help around the house, by all means ditch our spa day and go give her dog a bath! Or if Friday night is your regular Pizza and PJs date night with your person, turn me ALL the way down for the movie premiere of "Are You There God? It's Me, Margaret." I'm golden.
But miss me with anything smelling of "I'd LOVE to, but [INSERT NAME OF CONTROLLING PARTNER HERE] HATES it when I . . . " (I mean, again, let's be reasonable, here; if I invite you to play Russian Roulette, move permanently to Dubai, or have sex with me, I can see where your partner might have issues. But if it boils down to not wanting you to hang out with me (y'know, doing NORMAL stuff) because of jealousy? Or even TALK to me on the phone? Get TF outta here.)
And for my part, I am NOT the jealous type, either. (For one thing, I think I'm pretty damn awesome (see? entitlement), so if you'd REALLY rather be with someone else, knock yourself out; I think less of your taste now, so I'll happily send you on your way. For another thing, while of course I DON'T want a partner to cheat on me, I want it to be because HE CHOOSES NOT TO—not because I'm monitoring his life in order to deprive him of any opportunity to do so. But I digress.) Which is a good thing, because a full 92.7% of Love Tank's closest friends are women, so we'd never make it if I had jealousy issues. Or if HE did, because—as you may have guessed by now—that business is a non-starter for me. Anyway, where was I?
Oh, yes. So at this point, I'm DONE with the ex, because he is legit expecting me to understand that we can no longer stay in touch because his girlfriend won't allow it.
Moving on.
Awhile later, another friend of mine from high school and his wife relocated to Oakland from the east coast. As one does when faced with the opportunity to have regular contact with good friends, I pretty much figured we had all the time in the world to hang out, so I think we saw each other ONE TIME, at a party in my apartment (at which EVERY straight man in attendance fell madly in love with my friend's wife because she is da-bomb.com . . . but I digress), before I ended up deciding to leave Oakland and move to Philadelphia.
In preparation for my move, I had put some of my furniture up for sale on Craigslist (remember that?), and so was awaiting calls from futon seekers across the East Bay. If you know me, you know I feel very little obligation to answer the phone just because it rings, and am just as likely to let it go to voicemail if I'm in the middle of something, or heck, if I just don't feel like talking. However, at that point in my life, I didn't want to miss out on any potential buyers by failing to pick up the phone, so I was answering every call if I was at home . . .
. . . which is how one evening I picked up the phone and heard a feeble, "Hey . . . " from my damn ex (whom YOU KNOW would otherwise have gone deep into the voicemail void and never returned, because I can hold a grudge like nobody's business) on the other end of the line. Even though I was still mad that he'd ditched me, I talked to him long enough to tell him I was moving across the country in a couple of weeks (take THAT, you weak-ass, friendship-nuking bastard!). He asked if there was any sort of goodbye party planned, and I (truthfully) said no; I said that several friends had mentioned taking me out to a goodbye dinner, but so far nobody had gone as far as to suggest a date or time.
He suggested a date and time to take me out to dinner himself.
I caved and agreed (so much for that grudge)—and then another friend (who'd been pissed at this guy for dumping me in the first place) suggested we make that dinner my OFFICIAL good-bye gathering for EVERYONE, to thwart any potential plans Dude might have for some romantic moment with me before I left—which I doubted he had, but I went along with this plan, and started calling people to invite them to dinner on the date and time I'd set up with my ex (I did tell him about it, though—I mean I'm not THAT much of an asshole—and he didn't seem to mind).
Among the people I invited were my east coast defector friend and his wife, who were disappointed to find out I was leaving. "We wanted to introduce you to our friend Meredith," they said, "because we think you guys would love each other."
I told 'em to bring Meredith along to the goodbye dinner—and, true to their prediction, I DID love her. She was so amazing and hilarious and fun . . . and she gifted me with one of the most satisfying moments of my life . . .
We were all at a long table in the restaurant, and she was sitting next to me, while my ex sat across from us. At one point, she leaned over and whispered in my ear (gesturing with her eyeballs toward my ex): "OK, is that dude your boyfriend?"
"No," I whispered back, not bothering to explain the whole situation.
"Really?" she replied, "Because he is giving you THE MOST LOVING LOOKS—like he is REALLY going to miss you, if you know what I mean."
OHHHHHHHHHHH, THE GLORY.
After that, I did explain to her that he was my ex, and she said, "Ahhhh, that explains it."
But that moment cemented my love for her to a point that I almost didn't want to move away from the opportunity to become besties with this spectacular person.
Sadly, I never kept in touch with her or anything—but because I kept in occasional touch with my friends who'd introduced me to her, I knew she'd developed cancer, and written a memoir about it, so I bought it and read it when it came out.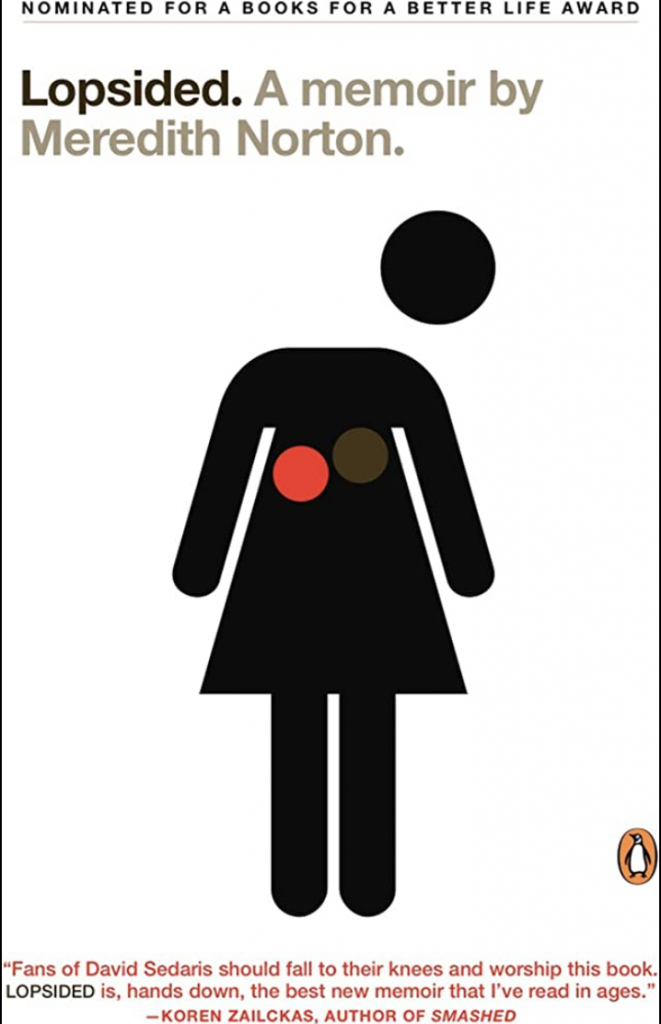 I also knew when she died.
I don't remember a ton about the book (and I can't even FIND my hard copy now), but I remember liking it quite a bit, and even though I had NO IDEA that a decade hence, I'd find myself in a similar situation, I remember appreciating the fact that it wasn't some Chicken Soup for the Soul-type inspirational tome, but rather a funny, sarcastic, and irreverent take on what—let's face it—is a shitty situation. I will be the first to admit that I've found some nuggets of gold in this pile of shit (all of you being one big shit-coated nugget, and I mean that in the best way), but I think what I maybe need now are not inspirational memes involving footprints or inner wolves, or—God forbid—the word "warrior," but rather someone (even a dead someone) to sit in the shit with me, acknowledge that it is indeed shit, and make me laugh at the same time.
Yesterday and the day before, the weather here was great (upper 50s/low 60s), and on each of those mornings, I woke up thinking I'd get out of the house and take an afternoon walk. On the first of those days, I ended up hanging out in bed, talking on the phone to a friend for three hours instead, and on the second, I ended up again in bed, wallowing in self-pity because things didn't exactly go my way at my doctor visits yesterday.
Today, it's cold again, so I'm not even going to try to go outside. I think instead, I'll hang out in bed, eat some more Girl Scout cookies, fire up my Kindle app, and start my new/old book.
Thanks, as always, for hangin' in.
P.S. I initially titled this post "The asshole 'c' chronicles," but it occurred to me that y'all could take that the wrong way and think the cancer had spread to my butthole or something—and that is NOT the case (small favors), so I added the 'fucking' for clarification.